Equality, Diversity and Inclusion
Our college has always been a diverse and inclusive community – it's one of our greatest strengths.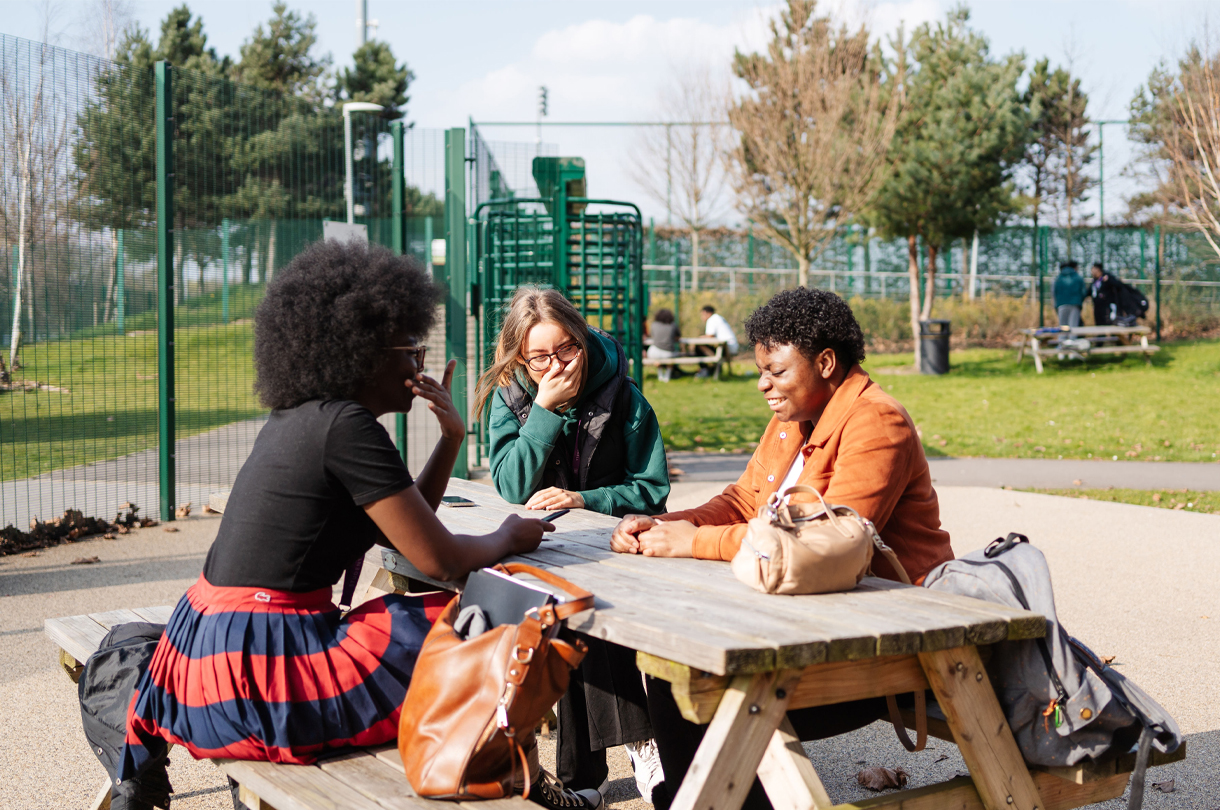 We're committed to the co-operative values of Trust:
Self-help
Self-responsibility
Democracy
Equality
Equity
Solidarity
Our Ways of Being:
Succeed Together
Do what matters most
Show you care
Be yourself always
Our Ways of Being guide us in how we educate our young people and work together to help them prepare to succeed in next steps. Our inclusive culture takes work and we continue to review our ways of working to retain our family feel as we grow.

OUR TRUST'S EQUALITY OBJECTIVES
Objective 1: to embed equality, diversity and inclusion into the curriculum and teaching & learning practises.
The Trust and its academies will work towards a curriculum and teaching & learning practices which:
are inclusive
show respect for and appreciation of one another as individuals
prepare pupils for life in a diverse society by encouraging respect for linguistic, cultural and religious diversity that exists in local communities and the wider world
develop personal and cultural identity in all pupils
widen educational and personal horizons of all pupils if limited by factors that compromise equality
are proactive in tackling discrimination
promote benefits of diversity
Objective 2: to embed equality, diversity and inclusion into the college.
We will continue to monitor and analyse student achievement and progress by ethnicity, gender and disability, and act on any trends or patterns in this data which identify the need for additional support for students with the aim of narrowing the gap for equality groups.
We will create and promote opportunities for staff voice, and debate & dialogue, around these key issues.
OUR EQUALITY, DIVERSITY AND INCLUSION (EDI) OUTCOMES IN 2021/22 AND GOALS FOR 2022/23
Addition of EDI statement to student welcome statement on website 2021/22 and print prospectus 2022/23.
'We embrace diversity and celebrate differences. We seek like minded students who are committed to social justice and want to have a positive impact on the world in which we live. We welcome applications from any student who meets our entry requirements.'
Addition of EDI statement and mention of flexible working arrangements to all job adverts. Shortlisting for all posts is done without reference to any information that could indicate gender, age, ethnicity or disability. In 2022/23 we want to see an increase in the diversity of our workforce.
Culture Day – following student voice feedback we held a culture day. We celebrated our cultural diversity through a range of activities designed and led by students. We want to repeat this in 2022/23 and increase the number of events with the addition of culture champions from the staff and student body.
Multi-faith room – following student voice we converted an underused classroom into a multi-faith room. This has really enhanced cultural life within the college.
In 2021/22, as we began to build post pandemic learning models, we introduced our CORE curriculum. In these weekly lessons, students were able to engage with, discuss and explore a wide range of issues relating to equality, diversity and inclusion within their everyday lives as well as thinking about these issues in the workplace and within wider society. We will be extending the CORE curriculum offer to all students in 2022/23 and enhancing it through assemblies and workshops focusing on key themes or emerging issues.
An EDI calendar is used to build awareness of challenges faced by under-represented groups. All curriculum areas are able to make reference to this in their teaching and students are prompted to engage with these issues through displays and direct messaging. Examples include Gypsy, Roma and Traveller History month, Black History month and Autism Awareness month. This will continue in 2022/23 and will be enhanced through the expansion of the CORE curriculum offer.
All academic subjects record their engagement with EDI issues through their curriculum and are encouraged to explore diverse role models within their subjects through their engagement with our CEIAG program Careers Education, Information, Advice and Guidance).
In 2021/22 a link governor for EDI was identified. In 2022/23 the college will work with this individual to quality assure and critically review our progress in this area.
In 2021/22 we began to think more deeply about how gender, ethnicity or other characteristics within our population might be affecting student outcomes – going beyond academic results (which we have always considered) we are looking at how these factors might be impacting students decisions to participate in enrichment opportunities, work experience and the kinds of decisions they make about their next steps. In 2022/23 we want to help students gain equal access to all opportunities by using data to understand and then support decision making.
Added red cords with explanation signs in all our accessible toilets around the building.
In addition, for 2022/23 we will:
Apply for the Rainbow Flag Award and work towards the Equalities Award.
Work to improve our parent comms, to make sure that the language we use is accessible to all and that translation services are provided for families at critical times when they need to make important decisions about the education of their child.
Require subject areas and employer partners work with us to increase student opportunities to meet or learn about professionals with disabilities or from other underrepresented groups.
Develop links with education providers that work with students with disabilities.
Build on our participation data from 2021/22 so that we understand trends and then change our ways of working to boost participation and better meet the needs of our students.
Continue to respond to emerging needs from student voice, staff voice, internal data and other emerging themes locally or in wider society.
Appoint a member of staff to lead on EDI and to work with nominated representatives from the student council and our link governor.

We will review and update the information here on the website on an annual basis. Progress will be reported to and reviewed by governors twice yearly.