Academy Governing Council
We're part of the Co-op Academies Trust – a multi academy trust. Our governance is delegated between:
Co-op Academies Trust Board

The Regional Director and Central Trust Teams

College Governing Council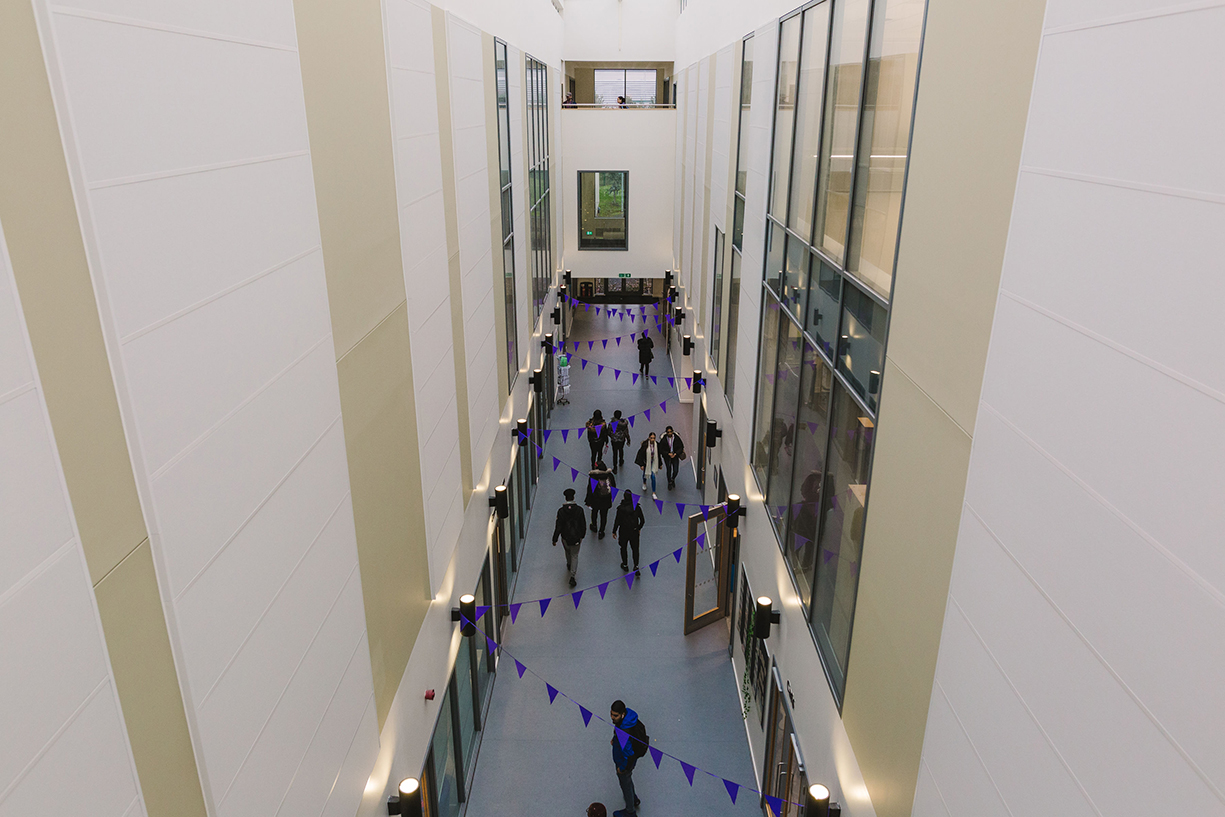 CO-OP ACADEMIES TRUST BOARD
Co-op Academies Trust is governed by a Trust Board made up of experienced professionals who make decisions about the strategic direction of the Trust. Some of the Trust Board members ('trustees') work for the Co-op Group, some are external to make sure we have a range of different views and perspectives.
The Trust Board has strategic oversight of:
The financial performance of its academies and Trust
The educational outcomes of its academies
New schools and academies applying to join the Trust
The future ambitions and goals of the Trust
The Trust Board delegates responsibilities to six committees that handle more detailed discussions and also to an academy/college governing council within each academy/college.
THE REGIONAL DIRECTOR AND CENTRAL TRUST TEAMS
Our regional director is Ian Burchett.
The Trust's central team includes members who have been successful school leaders, former Senior HMI and current Ofsted inspectors; as well as experts in finance, governance, human resources and communications and marketing. Find out more.
COLLEGE GOVERNING COUNCIL (CGC)
The CGC provides strategic level support to the operational leadership (our principal and senior leadership team).
We don't have statutory responsibilities in the way that a governing body in a standalone local authority school has, instead we have the Trust's scheme of delegation. We have the authority to develop many areas such as:
Summative and some formative assessments
Behaviour
Teaching and learning
Staffing structures
Recruitment
Structure of the school day
Enrichment
Directed time
We're empowered with the flexibility to adopt a model that suits our college's local contexts and challenges. Not having statutory responsibilities means we're able to concentrate even more on the one absolute priority – enhancing the life chances of all the young people at our college. Our governors are dedicated to our college and the community it serves. They get to know our college in a way that the Trust Board is unable to, and act as a local sounding board and decision-making body. They support and challenge in the traditional way but spend less time on policies and paperwork meaning they can spend more time understanding the specific needs of our college and the community it serves.
TRUST GOVERNANCE
---

OUR GOVERNORS
MARK ADAMS
| | |
| --- | --- |
| Full Name | Mark Adams |
| Date of appointment | 01/04/2019 |
| Term of office | 4 years |
| Category of Governor | Community |
| Appointed by | Appointed by College Governing Council |
| Subcommittee membership (2022-2023) | N/A |
| Declarations of Interest | Manchester City FC – Employee |
| Attendance at College Governing Council meetings (2022-2023) | 6/6 |
| Attendance at subcommittee meetings (2022-2023) | N/A |
CHRIS BISHOP
Full Name

Chris Bishop

Date of appointment

01/04/2019

Term of office

6 years

Category of Governor

Community

Appointed by

Appointed by College Governing Council

Subcommittee membership (2022-2023)

Finance Committee

Pay Committee

Declarations of Interest

Nothing to declare

Attendance at College Governing Council meetings (2022-2023)

6/6

Attendance at subcommittee meetings (2022-2023)

Finance Committee: 2/2

Pay Committee: 1/1
CATHERINE ELLIOT
| | |
| --- | --- |
| Full Name | Catherine Elliot |
| Date of appointment | 16/05/2022 |
| Term of office | 4 years |
| Category of Governor | Safeguarding |
| Appointed by | Appointed by College Governing Council |
| Subcommittee membership (2022-2023) | N/A |
| Declarations of Interest | Nothing to declare |
| Attendance at College Governing Council meetings (2022-2023) | 5/6 |
| Attendance at subcommittee meetings (2022-2023) | N/A |
EMMA SOPER
Full Name

Emma Soper

Date of appointment

23/08/2021

Term of office

N/A

Category of Governor

Ex-officio

Appointed by

By virtue of appointment as Head of College

Subcommittee membership (2022-2023)

Finance Committee

Pay Committee

Declarations of Interest

Nothing to declare

Attendance at College Governing Council meetings (2022-2023)

6/6

Attendance at subcommittee meetings (2022-2023)

Finance Committee 2/2

Pay Committee: 1/1
LUTUMBA MBALA
| | |
| --- | --- |
| Full Name | Lutumba Mbala |
| Date of appointment | Parent |
| Term of office | 4 years |
| Category of Governor | 15/10/2021 |
| Appointed by | Elected by parents/carers |
| Subcommittee membership (2022-2023) | N/A |
| Declarations of Interest | Sibling is student at Connell College |
| Attendance at College Governing Council meetings (2022-2023) | 1/6 |
| Attendance at subcommittee meetings (2022-2023) | N/A |
LLOYD THOMAS
| | |
| --- | --- |
| Full Name | Lloyd Thomas |
| Date of appointment | 01/04/2019 |
| Term of office | 4 years |
| Category of Governor | Sponsor, (Chair) |
| Appointed by | An employee of the Co-op appointed by the sponsor |
| Subcommittee membership (2022-2023) | Pay Committee |
| Declarations of Interest | Nothing to declare |
| Attendance at College Governing Council meetings (2022-2023) | 5/6 |
| Attendance at subcommittee meetings (2022-2023) | 1/1 |
ADAM WOODLEY
| | |
| --- | --- |
| Full Name | Adam Woodley |
| Date of appointment | 01/04/2019 |
| Term of office | 4 years |
| Category of Governor | Staff |
| Appointed by | Elected by staff |
| Subcommittee membership (2022-2023) | Finance Committee |
| Declarations of Interest | Connell Co-op Employee |
| Attendance at College Governing Council meetings (2022-2023) | 5/6 |
| Attendance at subcommittee meetings (2022-2023) | Finance Committee: 2/2 |
EMMA BOSWELL
| | |
| --- | --- |
| Full Name | Emma Boswell |
| Date of appointment | 01/12/2022 |
| Term of office | 4 years |
| Category of Governor | Staff |
| Appointed by | Elected by staff |
| Subcommittee membership (2022-2023) | N/A |
| Declarations of Interest | Nothing to declare |
| Attendance at College Governing Council meetings (2022-2023) | 4/5 |
| Attendance at subcommittee meetings (2022-2023) | N/A |
OLUYEMISI AKINWUMI
| | |
| --- | --- |
| Full Name | Oluyemisi Akinwumi |
| Date of appointment | 01/07/2023 |
| Term of office | 4 years |
| Category of Governor | Parent |
| Appointed by | Elected by Parents/Carers |
| Subcommittee membership (2022-2023) | N/A |
| Declarations of Interest | Nothing to declare |
| Attendance at College Governing Council meetings (2022-2023) | 0/1 |
| Attendance at subcommittee meetings (2022-2023) | N/A |
NIKKI TAYLOR
| | |
| --- | --- |
| Full Name | Nikki Taylor |
| Date of appointment | 21/01/2022 |
| Term of office | 4 years |
| Category of Governor | Sponsor |
| Appointed by | An employee of the Co-op appointed by the sponsor |
| Subcommittee membership (2022-2023) | N/A |
| Declarations of Interest | Nothing to declare |
| Attendance at College Governing Council meetings (2022-2023) | 0/4 |
| Attendance at subcommittee meetings (2022-2023) | N/A |
SAM VICKERMAN
| | |
| --- | --- |
| Full Name | Sam Vickerman |
| Date of appointment | 26/05/2023 |
| Term of office | 4 years |
| Category of Governor | Sponsor |
| Appointed by | An employee of the Co-op appointed by the sponsor |
| Subcommittee membership (2022-2023) | N/A |
| Declarations of Interest | Nothing to declare |
| Attendance at College Governing Council meetings (2022-2023) | 1/1 |
| Attendance at subcommittee meetings (2022-2023) | N/A |
DANIEL THOMPSON
| | |
| --- | --- |
| Full Name | Daniel Thompson |
| Date of appointment | 18/10/2023 |
| Term of office | 4 years |
| Category of Governor | Sponsor |
| Appointed by | An employee of the Co-op appointed by the sponsor |
| Subcommittee membership (2022-2023) | N/A |
| Declarations of Interest | Nothing to declare |
| Attendance at College Governing Council meetings (2022-2023) | N/A |
| Attendance at subcommittee meetings (2022-2023) | N/A |
Resignations in the past year:
Aaron Booth, 4 April 2023
Andy Phelps, 31 March 2023
Richard Price, 6 February 2023
James Wilson, 16 May 2022
Donna Lee, 24 January 2022
Alasdair Fowle, 11 October 2021
Aaron Stapleton, 26 September 2022

---

Our sponsor – Co-op Academies Trust:
0161 692 4309 (Mon-Friday 9am-5pm)
Registered office in England:
1 Angel Square
Manchester
M60 0AG
Company registration number: 07747126