2022 OUR YEAR COMPETITION PRIZE CEREMONY

We held our prize giving evening for the children and young people who took part in the 2022 Our Year Art, Poetry and Short Story Competition on Tuesday 29 March.
We received a huge variety of entries from children and young people aged 5-18, covering a number of key themes, including equality, wellbeing, play, family and friends, education and environment. We were blown away by the quality of the entries we received: some fantastic and interesting stories; deep and beautiful poems; and the artwork was beautiful and powerful. Narrowing down the entries and choosing the winners was a really tough job, taken on by a panel of experts, including published author Ellen Harrison (follow on Twitter and Instagram).
The evening was a brilliant celebration of the creativity and passion of young people in Manchester. After some light refreshments, the ceremony opened with a welcome from Head of College, Emma Soper. Then Andrea Daubney, Manchester City Council's Assistant Director of Education, introduced Our Year and what it is aiming to achieve in Manchester. Two Connell students, Katie and Hanan, spoke about their experiences during the Covid-19 pandemic and their vision for the 2022 Our Year project and beyond.
The winners and runners up were invited to the prize ceremony which was split by three age groups (Primary School, Key Stage 3 and Key Stages 4-5) and by the three categories (art, short stories and poetry). Thirty children and young people were awarded prizes.
The first prizes were awarded to Benjamin Clark, Y2, Brookburn Community School; Sara Hassani, Y4, Pike Fold Primary School; Zuha Rafiq, Y4, Longsight Community Primary School; Noah Brown, Y10, Gabriella Taiwo, Y9, and Freddie Chauhan, Y7, Co-op Academy Manchester; Omar Naoum, Y9, Burnage Academy for Boys; Lauren Johnson, Y10, Co-op Academy North Manchester; and Muskan Ditta Afzal, Y12, Connell.
Freddie, a Year 7 student from Co-op Academy Manchester, said: "I was really pleased to win an award for my poem. I wrote it about feelings but I'm not sure where the inspiration to write it came from as English isn't one of my favourite subjects. I think I will write more poems in the future."
Muskan, a Year 12 student from Connell Co-op College, added: "I was pleasantly surprised to win. My drawing was inspired by discussions with my brother and based on the health of the earth's environment. I think it has inspired me to be more creative in future – after my exams – to start doing sculpture."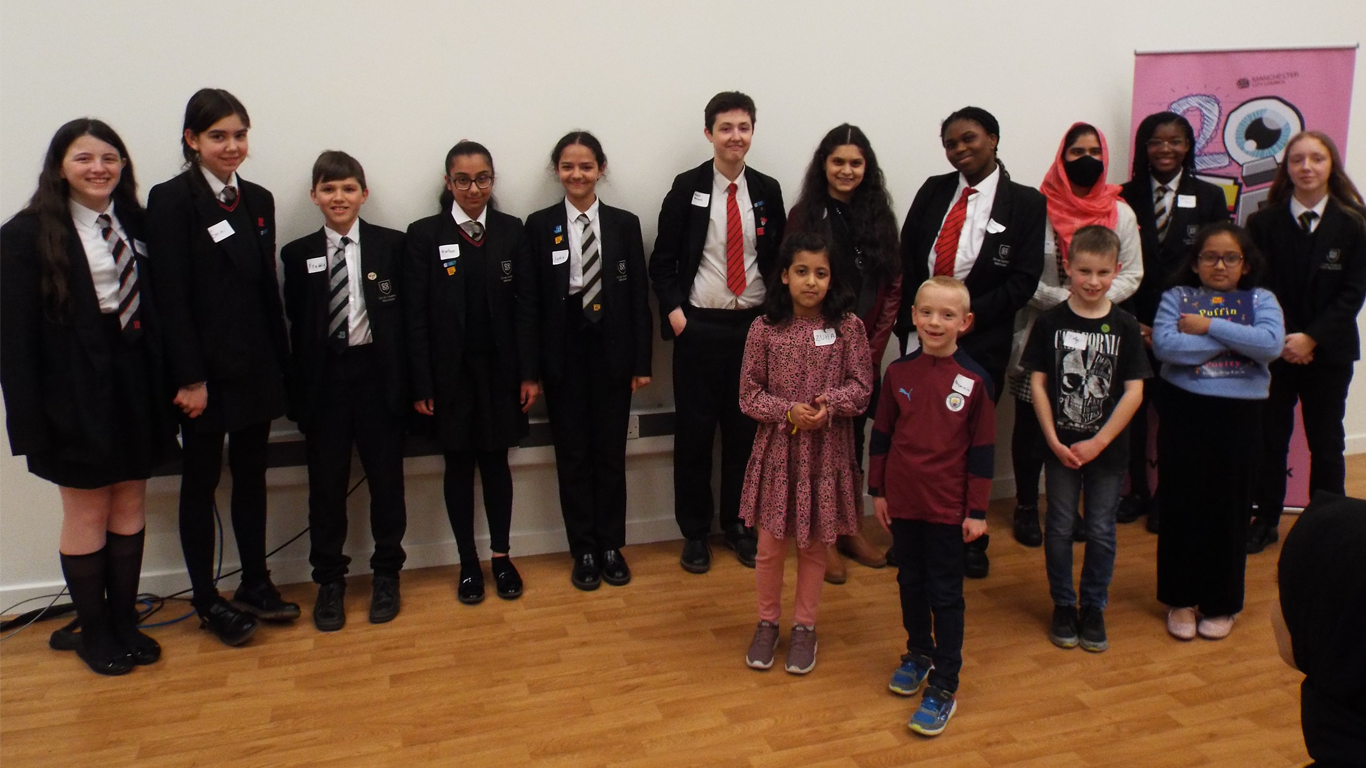 Some of the winners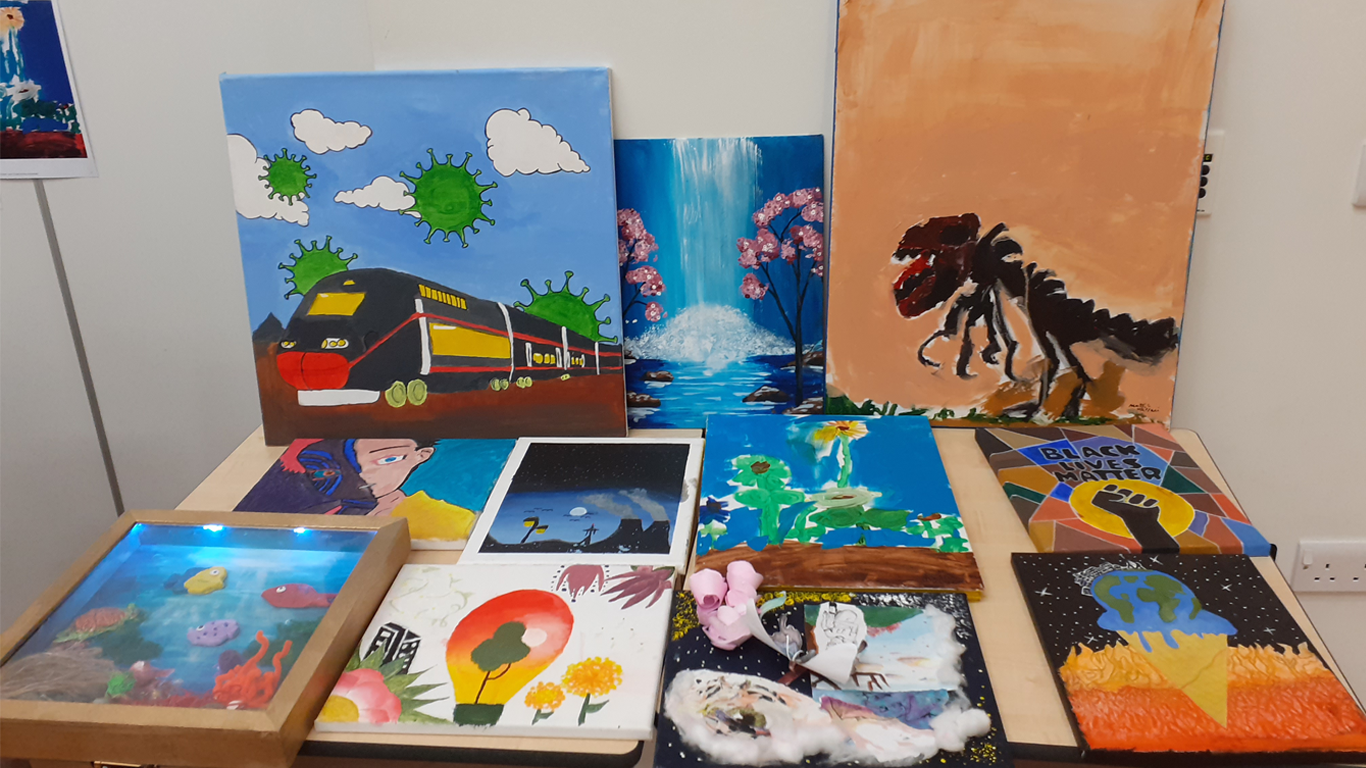 Some of the pieces of art

Co-op Academy Manchester students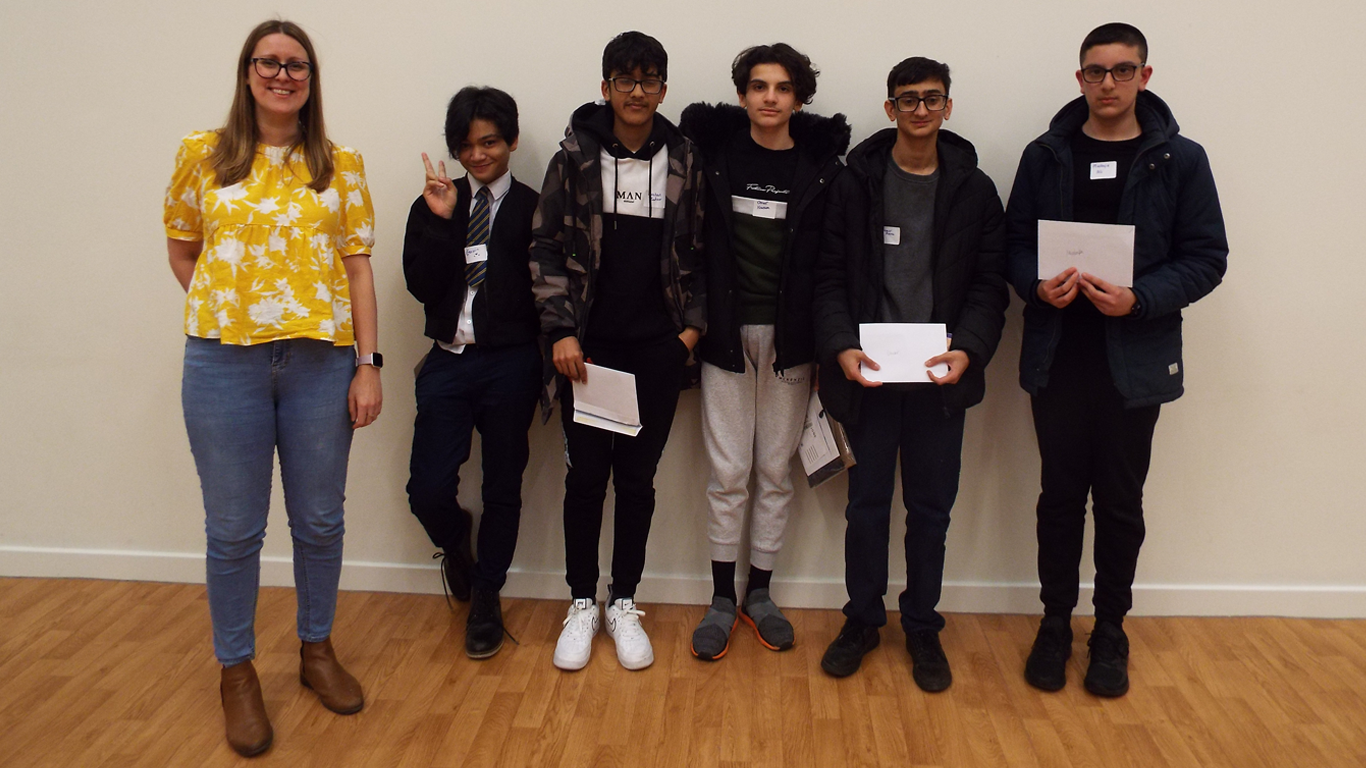 Burnage Academy for Boys students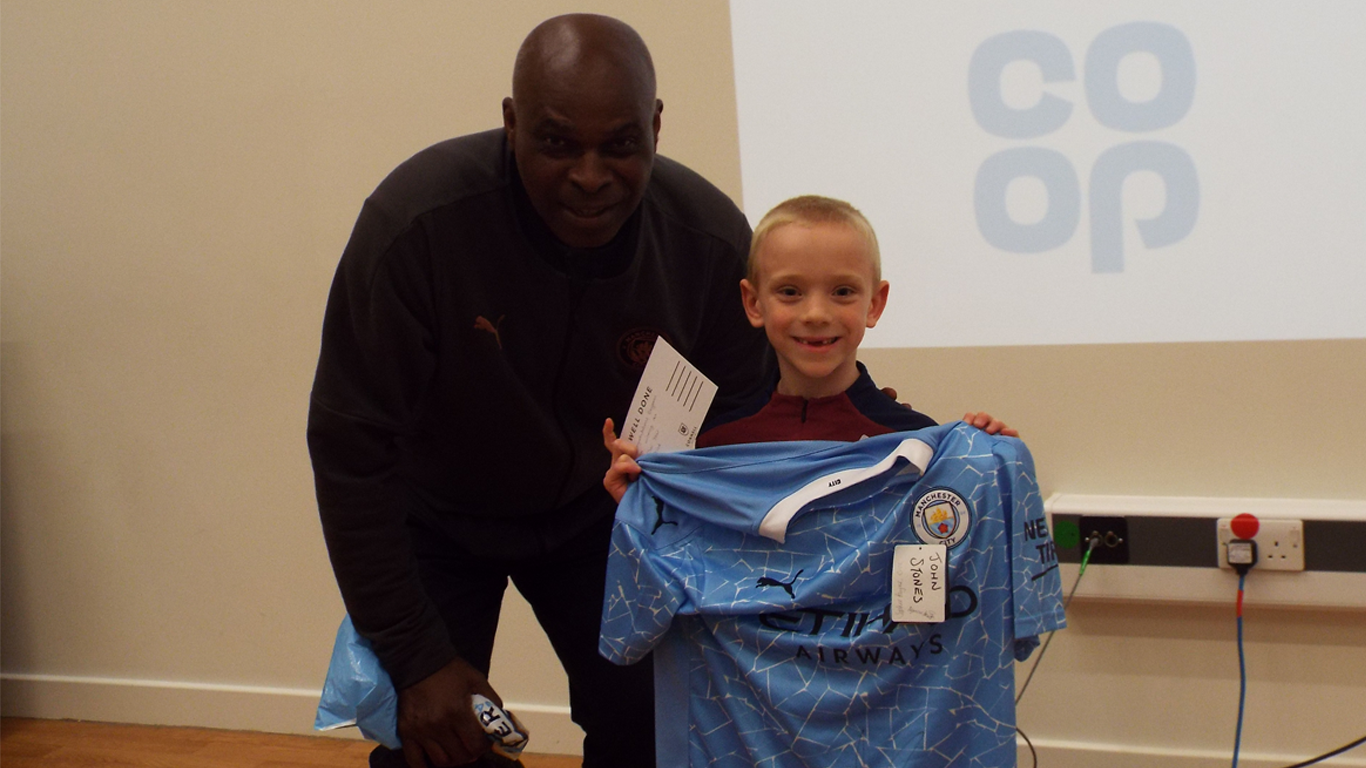 Benjamin from Brookburn Primary receiving an MCFC shirt from Alex Williams MBE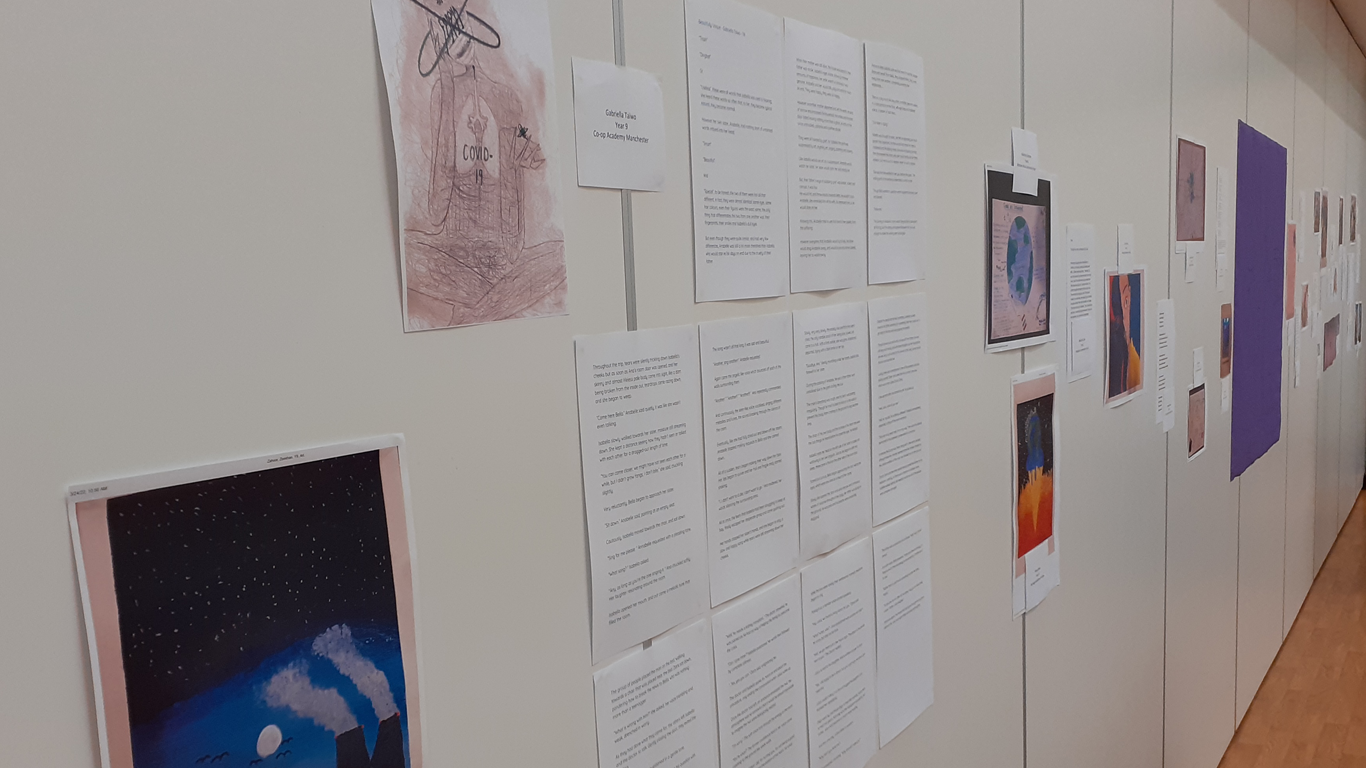 The gallery wall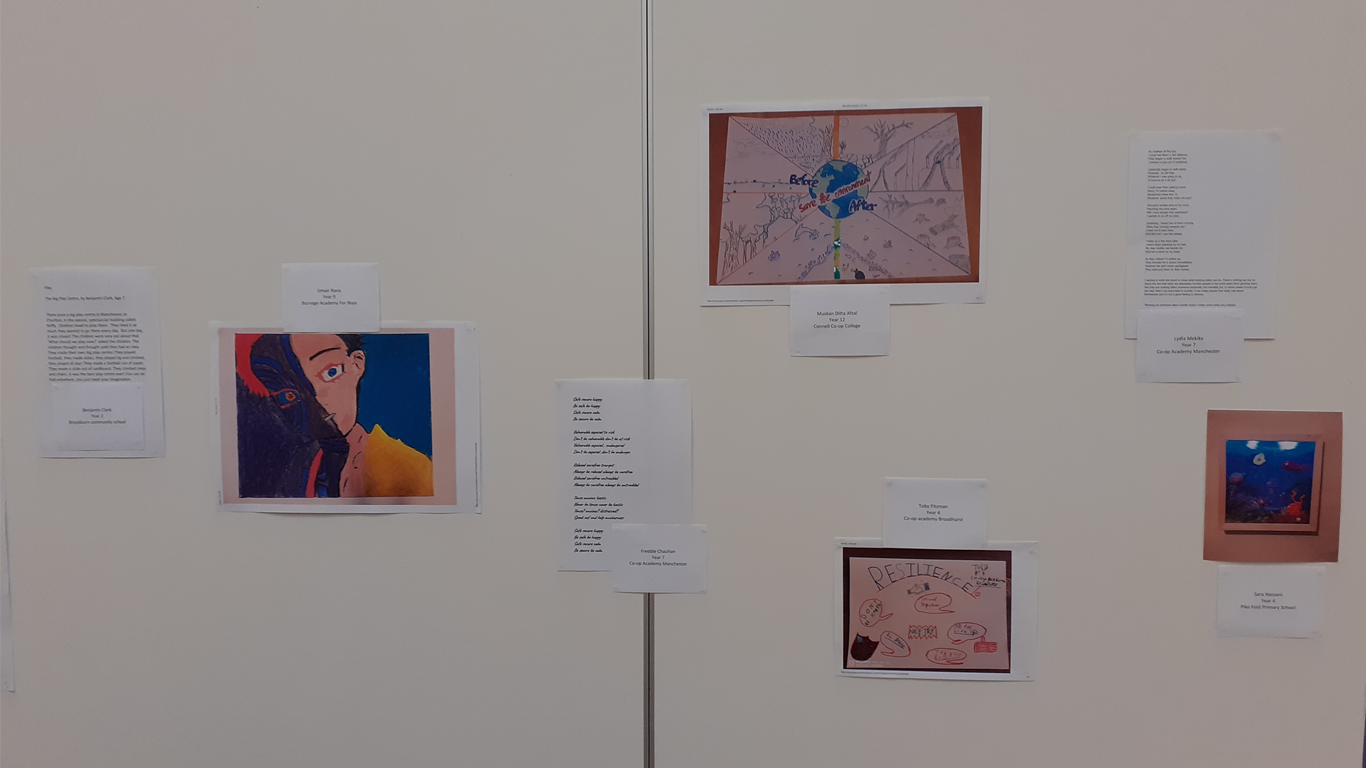 The gallery wall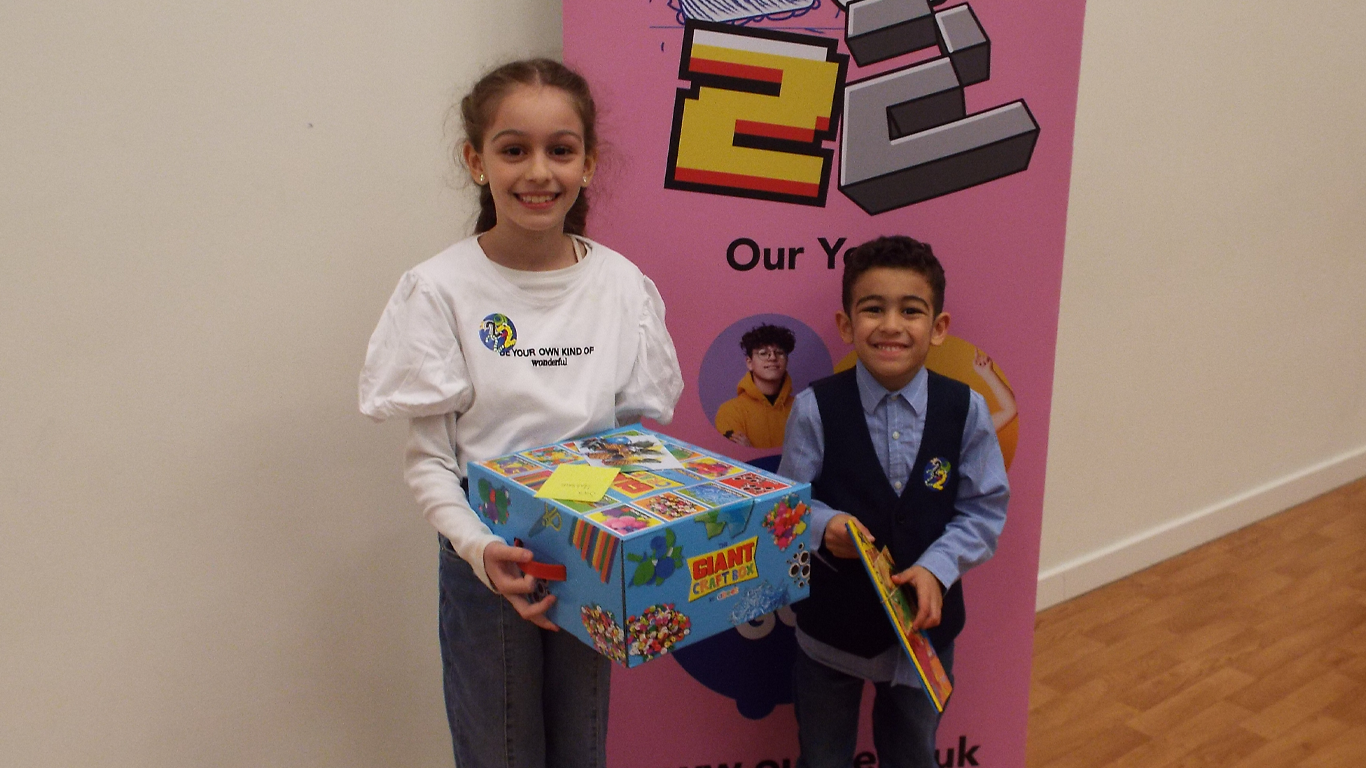 Brother and sister winning together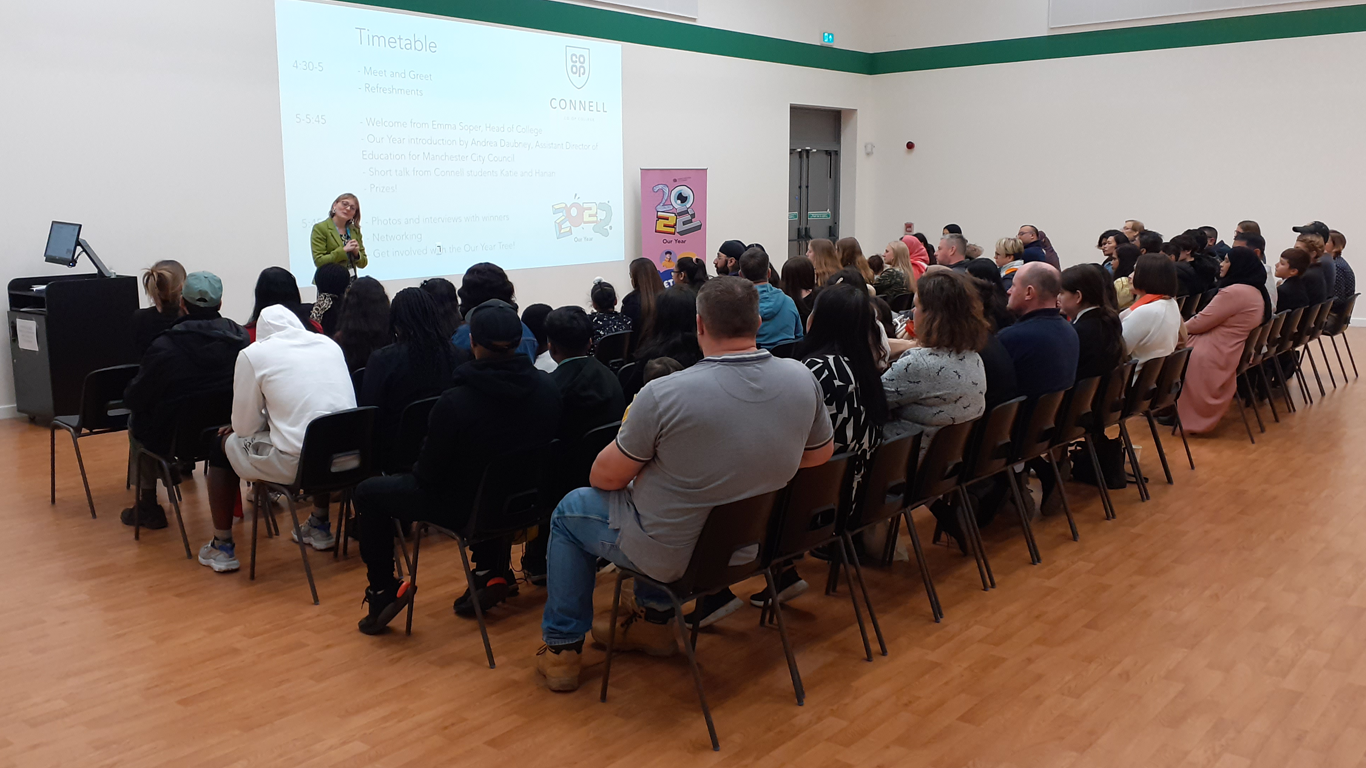 All the attendees
Our partners – Co-op, Manchester Metropolitan University, MCFC City in the Community and Manchester City Council – donated some fantastic prizes. Some of the top prizes included a signed John Stones MCFC shirt, an afternoon tea at Hotel Football, an afternoon tea at Angel Square, a £25 restaurant voucher, Amazon vouchers, Arndale vouchers, footballs, books and stationery.
The competition formed part of the year-long Manchester campaign, 2022 Our Year, being run by Manchester City Council. The campaign is providing a programme of activities, opportunities and experiences for children and young people to help them shape theirs and their city's futures post-Covid.